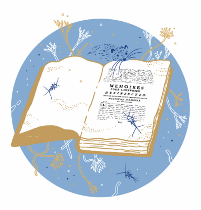 Programme
We are happy to present to you the preliminary programme for the conference IPM 2019.
Download the preliminary programme as a pdf.
---
Tuesday, 21 May
1st day's theme: Communicating IPM
Raising awareness of IPM is perhaps the most important single factor for reducing pest problems. The session explores innovative and creative ways of teaching, training, explaining and implementing IPM in museum, libraries, archives and historic houses.
08:30–10:00 | Registration and coffee
10:00–10:15 | Welcoming address
10:15–10:45 | Introduction
David Pinniger: International Pest Management.
10:50–12:10 | Session 1
Are we really integrating pest management?
Train the trainer.
Building a Team: establishing and leveraging a Preservation Liaison system at Princeton University Library.
Social Butterflies: Social media as a tool for promoting IPM education.
12:10–13:30 | Lunch
Will be served in the Banquet Hall at the conference venue.
13:30–14:50 | Session 2
Standardizing and communicating IPM data.
Implementing novel ways of communicating pest monitoring data.
The step by step implementation of IPM routines at Moderna Museet, Stockholm.
We have an IPM standard – now what?
14:50–15:30 | Coffee break and poster session
15:30–17:00 | Session 3
What is the threat from webbing clothes moths?
Bringing IPM to historic ships in the UK.
Practical emergency plans in the case of pest attack in museums.
Socializing IPM.
19:00–21:00 | Reception at the City Hall of Stockholm
Hosted by the City of Stockholm.
---
Wednesday, 22 May
2nd day's theme: IPM in the era of globalisation
How can we deal with the pest problem as the world becomes smaller? This session highlights how the cultural heritage community is responding: researching treatment methods, finding innovative solutions to detect, identify and treat species formerly unknown, prioritising risk assessments and organising IPM in their institutions.
09:00–10:20 | Session 4
Handling the increasing problem with grey silverfish (Ctenolepisma longicaudata) in museums and archives.
Ctenolepisma longicaudata (Grey silverfish): occurrence and behaviour in UK heritage organisations.
Remote sensor technology for rodent surveillance in museums: Pilot study at the American Museum of Natural History.
Effectiveness and safety of alpha-cypermethrin impregnated polyethylene mosquito netting for pest management of clothes mothes (Tineidae), powderpost beetles (Lyctidae) and carpet beetles (Dermestidae).
10:20–11:00 | Coffee break
11:00–12:00 | Session 5
Management of an active infestation caused by Lyctus at the graphic documents framing service of the National Library of France: the role of the IPM team in the risks assessment and the coordination of all stakeholders – a case study.
Neuronic™ system – a professional tool allowing the conservators to recognize insect species and classify the potential related risks.
Pesticides and their heritage.
12:00–13:30 | Lunch
Will be served in the Banquet Hall at the conference venue.
13:30–14:50 | Session 6
Capability and limitation of anoxic treatments in museum collections protection.
Anoxic treatment or freezing? Consider your options.
Killing me softly… Adaptive freezing processes for reliable pest control with minimum physical load to artworks.
14:50–15:30 | Coffee and poster session
15:30–16:30 | Session 7
Application of humidified heat treatment to entire historic wooden buildings at Nikko World Heritage site to control insect attack.
The attractive qualities of frass, food and the combination of frass and food to the webbing clothes moth, Tineola bisselliella before and after cleaning.
Sniffing dogs in the detection of biscuit beetle (Stegobium paniceum) infestations in historic libraries.
19:00–21:00 | Conference reception at the Nationalmuseum
---
Thursday, 23 May
3rd day's theme: IPM in a changing climate
Mean temperatures are rising. How can the cultural heritage community meet the challenges posed by elevated temperatures, fluctuating humidity and other changing environmental factors? How do we deal with insect pests and mould growth that are adapting fast to a changing climate? This session demonstrates some approaches such as increased monitoring and management.
09:00–10:20 | Session 8
A call for systematic monitoring: exploring the link between risk assessments and climate change impacts to cultural heritage.
Better safe than sorry? – Mould management at Skokloster Castle.
Mould in Swedish churches.
10:20–11:00 | Coffee break
11:00–11:40 | Session 9
Wood-destroying insects in historic buildings – The importance of microclimate at climate change.
Furniture beetle behaving badly.
11:40–12:00 | Closure
Pascal Querner: Teaching IPM – from correct identification to effective prevention.
12:00–12:30 | Final session: the way forward
Recapitulation of the session part of the conference.
12:30–13:45 | Lunch
Will be served in the Banquet Hall at the conference venue.
13:45–16:00 | Excursions
Choose between six different excursion options.
Read more about the different excursions here.
Vasa Museum
Swedish National Archives
Swedish Museum of Natural History
National Library of Sweden
Hallwyl Museum
Nordic Museum
16:00 | End of the conference
Friday, 24 May
08:00–16:00 | Extra one-day excursion to Skokloster Castle
An extra one-day excursion to Skokloster Castle will be arranged on Friday 24 May for conference. An extra fee of 625 SEK incl. VAT will be charged for this excursion.
Read more about this extra excursions here.