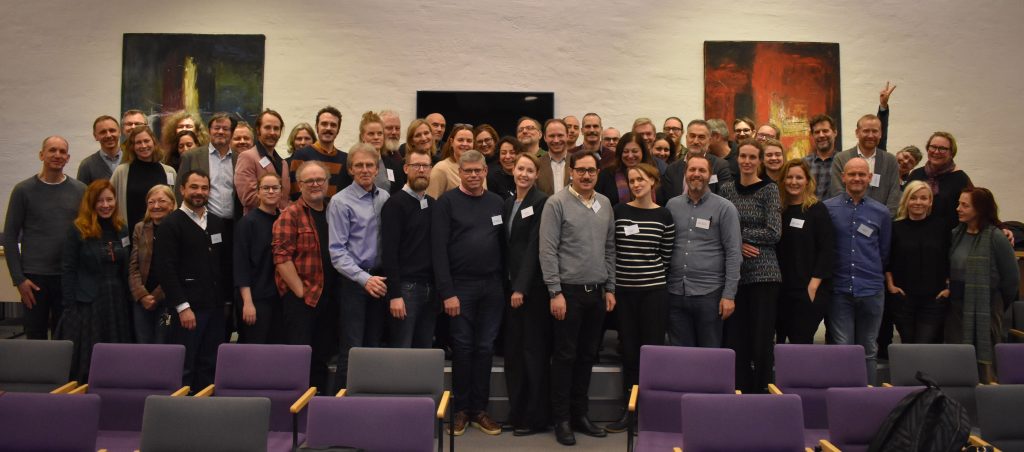 It's time for the Heritage Science Forum (17–19th November)
The National Forum for Heritage Science will be held for the third year in a row, on 17–19th November, daily 2–4 PM CET.
This year you can participate in the conference by attending short presentations, dialogues and a workshop – all online via Zoom. We hope to give you the opportunity to take part in interdisciplinary cultural heritage projects and meet a broad representation of professionals in the field of cultural heritage.
The conference will be held in English.
Our aim through the Heritage Science Forum is to make heritage science visible as a research area, highlight current issues and initiatives in the same area and promote increased collaboration between different organizations and research disciplines.
Registration for Heritage Science Forum 2020
Location: Digitally in Zoom
Day and time: 17–19th of november, at 2-4 PM.
NOTE: If you register for Heritage Science Forum during one of the conference days (17-19th of nov) the Zoom-link will be sent out to new participants at: 10 AM, 1 PM and 5 PM. Please make sure you register prior to these times if you want to participate in a specific lecture.
GDPR: In connection with the submission of your application, we collect and process certain personal data. As a user, you have the right to know which of your personal data is processed by the National Heritage Board. More information is available at raa.se/gdpr/english.
Want to know more about the Heritage Science Forum?
Read about what was presented during the conferences 2018 and 2019.
About Heritage Science
Heritage Science is an internationally established and expanding research area that combines humanities, natural sciences and technology.
In 2018, the national network "Heritage Science Sweden" was established. The goals of the network are to bring together different actors for a closer and stronger collaboration on cultural heritage issues. The National Heritage Board acts as the convening party for the network.
Programme Heritage Science Forum 2020
---
Tuesday, November 17th 2020, 2.00–4.00 PM
2.00 PM – Welcome: Opening of the conference
Heritage Science Sweden.
Stefan Nilsson, Swedish National Heritage Board
Heritage Science international infrastructure.
Marei Hacke, Swedish National Heritage Board
2.20 PM – Session 1: Remedial conservation
Nanomaterials for the consolidation of iron-tannate dyed textiles.
Nicoletta Palladino, KTH – Royal Institute of Technology
Examination of a 14th century crucifix:
Changes, construction and  a possible reliquary.
Susanna Barros, Barros kultur och konservering
Electrolytic cleaning of silver threads:
Effects of electrolyte on the condition of silk.
Karin Hindborg, Konservatorsateljén
3.00 PM – Break
3.10 PM – Session 2: Preventive conservation
Lobster tail and cake:
An anoxic contemporary conservation challenge.
Therese Lilliegren, Moderna Museet
Promote preservation through the choice of storage materials:
Presenting a new standard on how to measure emission effects of storage materials on paper-based objects.
Thea Winther, Swedish National Archives
New materials for preventive preservation:
Progress in the EU APACHE project.
Elyse Canosa, Chalmers University of Technology
4.00 PM – End of sessions
---
Wednesday, November 18th 2020, 2.00–4.00 PM
2.00 PM – Opening of the sessions
2.05 PM – Session 3: New research on runes
Everlasting Runes:
A research platform for runic inscriptions.
Magnus Källström, Swedish National Heritage Board
Runes, Ogham and Pictish symbols on Orkney and Shetland.
Laila Kitzler Åhfeldt, Swedish National Heritage Board
2.30 PM – Session 4: Technical art history
Italian Paintings in the Nationalmuseum:
Market, musealization, materiality.
Lena Dahlén, Sara Ferrari and Cecilia Heisser, Nationalmuseum
An international collaboration for the analysis of
Vincent van Gogh´s Olive Grove paintings.
Malin Borin, Gothenburg Museum of Art and Tom Sandström, Swedish National Heritage Board
3.00 PM – Break
3.10 PM – Session 5: Visualisation Technology
Andrée´s last diary:
Revealing hidden text through contemporary technology.
Bea Uusma, Karolinska Institutet and Magnus Mårtensson, Swedish National Heritage Board
VASABAS:
a 3D management tool for Vasa.
Håkan Thorén, The Vasa Museum
4.00 PM – End of sessions
---
Thursday, November 19th 2020, 2.00–4.00 PM
2.00 PM – Opening of the sessions
2.05 PM – Session 6: Heritage science for historical research
In the hands of Queen Christina and Cardinal Azzolino:
elemental analysis of the 17th century inks in the Azzolino collection.
Anna Lagerqvist Alidoost, Swedish National Archives
Making in context: reconsidering Anders Zorn´s oil paintings.
Emma Jansson, Stockholm University
Cultural heritage in Antarctica.
Gunnar Almevik, University of Gothenburg, Dag Avango, Lund University – Faculty of  Engineering, Jonathan Westin, University of Gothenburg – Centre of Digital Humanities.
2.50 PM – Session 7: Heritage science resources in Sweden and
IPERION HS
Heritage Science meets Environmental Archaeology:
in reality and virtually.
Philip Buckland, Umeå University
The SciLifeLab Ancient DNA facility:
a community resource.
Magnus Lundgren, Uppsala University
The Craft Laboratory.
Gunnar Almevik, University of Gothenburg
3.30 PM – Workshop and summary
4.00 PM – End of sessions
---