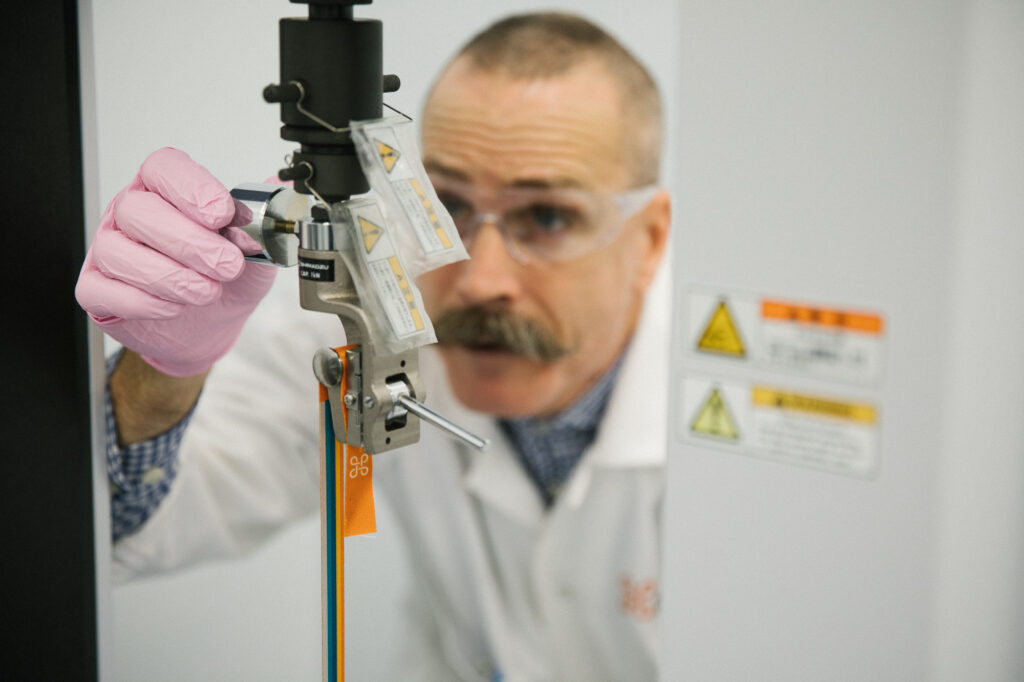 Heritage Science Sweden Forum 2022
This year's HSS Forum was a collaboration between the National Historical Museums and the Swedish National Heritage Board.
The forum's aim was to highlight heritage science in Sweden and increase its visibility as a research area, while shedding light on current issues and initiatives within the field. Through this, the forum intends to promote and increase collaboration between different organisations and research disciplines.
During the conference, it was possible to get an insight in current cultural heritage infrastructural projects and meet a broad representation of professionals in the cultural heritage field. The conference was held in swedish, on site in Stockholm at the Swedish History Museum and was organised as two half-day sessions focusing on short presentations, workshops, talks and discussions.
Read more about the Heritage Science Sweden Forum 2022 (in swedish).
Conference reports from previous years
Click on the headlines to read previous years' conference reports, the links go to the Swedish National Heritage Board's open archive.
Recordings and posters from the conference 2021
Click on the headlines to see the recorded lectures from the 2021 conference. To turn on subtitles, click on subtitles, at the bottom right of the YouTube window. At the bottom of this page you will also find the posters that were presented.
Day 1, November 30
Welcome and opening of the conference
Joakim Malmström, Director General, Swedish National Heritage Board and Stefan Nilsson, Convenor of Heritage Science Sweden network, Swedish National Heritage Board
Keynote speaker
Is this a 12th century joke? When science accidentally intersects material culture
Matthew Collins, University of Copenhagen
Session: Science in archaeology
Old wood in a new light
Anton Hansson, Lund University
What the genome from the 35,000 year old Peştera Muierii woman can tell us
Mattias Jakobsson, Uppsala University
Human and animal mobility in western Sweden during the Stone Age, based on strontium isotopes
Karl-Göran Sjögren, University of Gothenburg
Poster session and discussion: From object to impact
Analysis of ancient DNA: expanding the toolbox
Magnus Lundgren, SciLife Lab Uppsala University
Built Colonial Heritage – UNESCO's Neocolonial Tools?
Elsa Bane, Uppsala University
Lessons learned from the Armour paint system–for long-lasting protection of weather-exposed ferrous substrates (not available)
Arja Källbom, Gothenburg University
Augmented Reality and Rock Carvings in the Nordic Context
Aliisa Råmark, Gothenburg University
Effects of four consolidants on egg-white paint and their ageing
Angela Caira, Gothenburg University
Are hydro-gels a suitable cleaning option for water-gilded surfaces
Ana Vega Ramiro, Gothenburg University
Timber on top
Ylva Sandin, RISE
Day 2, December 1
Session: From object to impact
From object to impact – The role of research infrastructure for a knowledge-based value chain in Heritage Science
Margaretha Andersson, Uppsala University
Poster session and discussion: From object to impact
Wake up, sleeping beauty
Kathrin Hinrichs Degerblad, Alissa Anderson, Åsa M. Larsson, Swedish National Heritage Board
New adsorbents for cultural heritage applications: A SIFT-MS study
Elyse Canosa, Chalmers University of Technology
Modelling the degradation of Cadmium pigments
Elena Castagnotto, University of Genoa, Italy
IPERION HS and upcoming projects with Swedish partners
Marei Hacke, Swedish National Heritage Board, Charlotta Bylund-Melin, Lucrezia Milillo, Stavroula Golfomitsou Gothenburg University
Session: Diagnostics and documentation
Mapping dynamic light –thoughts on strategies and vizualisations for sunlight in museum settings
Maria Franzon, National Historical Museums and Thomas Hagaeus, Hagaeus Bygghantverk AB
Development of NIR tool for the analysis and surveying of film collections
Thea Winther, National Archives
What was in Alfred Nobels old bottles?
Sara Norrehed, Swedish National Heritage Board
Identification of pigment samples in a Swedish colour chart from 1680 (not available)
Cecilia Rönnerstam, Nationalmuseum
Session: Innovation and outreach
The importance of networking
Viktor Lindbäck, Swedish National Heritage Board
New ways of interpreting "Bulverket", a 12th century lake building
Peter D'Agnan, CHAB Archaeology & Building conservation Ltd
Dynamic collections: Material engagement in the digital space
Fredrik Ekengren and Nicoló Dell'Unto, from the Department of Archaeology and Ancient History, Lund University
Day 3, December 2
Session: Innovation and outreach
Research and innovation program at the Swedish Transport Administration
Ylva Stenqvist Millde and Nina Karlsson, Swedish Transport Administration
Re-assessing the past: Case Ågesta Nuclear Plant
Magdalena Tafvelin Heldner, National Museum of Science and Technology
"Borrow a researcher" is a simple concept that works!
How to make research appealing to the general public and through Science festivals?
Julia Brink, Research Friday VA (Public & Science)
Session: Pieces of a puzzle, infrastructures for heritage science in Scandinavia
How to make Heritage Science research data FAIR: a case study
Åsa M Larsson, Laila Kitzler Åhfeldt and Marcus Smith, Swedish National Heritage Board
CHARTER, the European Cultural Heritage Skills Alliance
Gunnar Almevik, University of Gothenburg
Panel discussion: Pieces of a puzzle, infrastructures for heritage science in Scandinavia
Panellists: Matthew Collins, University of Copenhagen, Lavinia de Ferri, University of Oslo, Gunnar Almevik, University of Gothenburg, Åsa M Larsson, Swedish National Heritage Board, Marei Hacke, Swedish National Heritage Board
Moderators for the conference and the panel discussion: Stavroula Golfomitsou and Elyse Canosa, from the department of Conservation at the University of Gothenburg