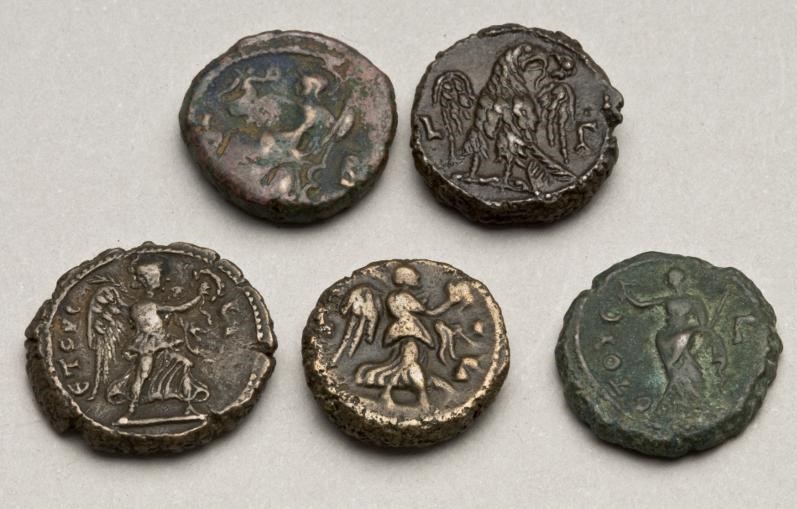 Tidigare: Webbinarieseriens inbjudna talare
Här hittar du information om talarna och deras presentation samt om moderatorerna av webbinarieserien att "forska på och och berika digitaliserade samlingar". Webbinarerna hölls på engelska.
In English: All our open webinars on researching and enriching digitalised collections will be held in English. Read more here about our invited speakers and their topics.
Inspelningar av webbinarierna finns tillgängliga att se i efterhand
Speakers
(In order of presenting)
Anna Foka, Uppsala University
Co-organiser of "Enriching Metadata- Enriching Research". Associate Professor of History and Information Technology , and Lecturer in Digital Museum Studies at Umeå University in Sweden. Since August 2018, she is the scientific leader of the Digital Humanities Uppsala Initiative, at the department of Archives, Museums, Libraries and Cultural Heritage, and a Lecturer at Digital Heritage. Principal Investigator of the Digital Periegesis project. Moving beyond claims of digital technology alone as means for democratisation of  knowledge, this talk focuses on women's history archival online repositories and their affordances, targeting a Swedish case study. After an overview of women's histories archival environments and the complexities that arise regarding FAIR principles (Findable, Accessible, Interoperable and Reusable) for digitisation, the talk introduces the case study: the personal archive of the industry leader Carl Sahlin (1861-1943), donated to the National Museum of Science and Technology in Stockholm and digitized within the nationally funded project Digital Models. The discussion ultimately shows that processes of digitisation and digitilisation of historical archival materials can potentially facilitate historical research on women professionals in Sweden, while, due to the lack of formalised education on leadership, and absence of legal rights regarding property law, women often remain invisible in historical archives. The talk ultimately emphasises the importance of data interoperability in semantic web environments in order to best synthesize and make available online and archival evidence on women's histories for future research.
Stuart Dunn, King's College London
Senior Lecturer and Head of the Department of Digital Humanities at King's College, London. Principal Investigator of the Ancient Itineraries project. The Ancient Itineraries project examined ways in which ways of digital thinking can be bought to bear on the field of art history. Drawing on these discussions, this talk will briefly present and critique the use of graph visualization as a means to represent individual objects. This "flips" the conventional approach to network analysis for art objects, which represents collections of objects as networks. By equating individual artworks with individual networks, we can deconstruct, and thus move to overcome, the reductive and quantitative barriers that some have identified to using digital methods for art history.
Head of the iInstitute, co-leader of the Digital Humanities Initiative at the Linnaeus university, and programme coordinator for B.A. in Library and Information Science. She is a lecturer and a researcher in the field of digital libraries and information retrieval. Her research has in particular focused on topics related to information retrieval and knowledge organisation. Researching in particular topics related to knowledge organisation, integrating existing knowledge organisation systems with social tagging and/or automated subject indexing, and evaluating resulting end-user information retrieval. The promise of the digital is omnipresent, with all information just a click way. This is what we often hear but is this really the case? What challenges are we facing as researchers in today's online search systems and why? How do we know that we are finding all relevant information important for our research?
PhD in history, Digital Coordinator at Nationalmuseum, Sweden's museum of art and design, and Chair of Europeana Copyright Community. Responsible for streamlining the internal digitisation processes and for making sure that the digitised collections can be found, accessed, used and re-used by the public. Karin has initiated the Nationalmusuem's Public Domain policy and several collaborations with Wikimedia Sweden, which boosted the Nationalmuseum's digital presence. As part of the museum's work to combine the physical and the digital visitor experience, she was responsible for the launch of a new visitor guide app which gives access to all exhibited works of art.
Product Owner for APIs at Europeana Foundation. He is involved in the elaboration of requirements and specifications that contribute to the further development of the Europeana Data Model. Prior to Europeana, Hugo has been involved in several European Projects as a Researcher working at the Lisbon Technical University and INESC-ID Portugal in subjects such as interoperability, linked open data and semantic technologies from which he takes his enthusiasm for his current position at Europeana. He is part of the Enrich Europeana Project which aims at developing a crowdsourcing platform that will enable citizens to transcribe and enrich cultural heritage material from Europeana Collections and national aggregator portals.
Works with research and development at Europeana focusing on data quality and enrichment. Prior to joining Europeana Albin worked as a business developer at the Swedish National Heritage Board where he split his time between the national aggregator K-samsök and supporting Swedish museums through R&D projects. Will be presenting Saint George on a Bike: This project aims to improve the quality and quantity of open metadata associated with imagery from European cultural heritage. It especially aims to address the challenge of endowing AI with insights into culture, symbols and traditions.
Larissa Borck, Swedish National Heritage Board
Communications Coordinator at the National Heritage Board for the Europeana Common Culture project, designs and executes strategies for an increase of data quality of collections in SOCH, the aggregator for Swedish digital cultural heritage. My presentation will expand upon how cultural heritage institutions can use external platforms such as Europeana to increase the audience of their digital data. I will give an overview of using editorial content, such as blog articles or galleries, and social media to collaborate with international partners and find new audiences. Furthermore, we will dive deeper into how institutions can work on their data to ensure re-use.
Presenting how the National Heritage Board works with the aggregators SOCH/K-Samsök and Europeana which collect links and metadata from digitised collections at museums and archives. They will outline the process of making this data available and searchable, explain which data is delivered to SOCH and Europeana respectively and the differences in content and structure between the two platforms. What contributions are needed to make the digitised content of collections more accessible and usable? What should researchers know about the digital resources already available to them and the public?
---
Moderators
Åsa Larsson, Swedish National Heritage Board
Co-organiser of "Enriching Metadata- Enriching Research". PhD in Archaeology, previously Director of a contract archaeology and research foundation. Joined the National Heritage Board to be part of the Digital Archaeological Process programme which developed the new Historical Environment Record launched in 2019. Led projects which made information about old excavations digitally availalble in the Record and developed e-learning courses for the registrators. Assistant Project Leader of "Urdar – Research Infrastructure for Archaeological Excavation Data" in collaboration with Uppsala University, financed by The Foundation for the Advancement of the Humanities and Social Sciences.
Larissa Borck, Swedish National Heritage Board
As a Communications Coordinator for the Europeana Common Culture project, Larissa Borck designs and executes strategies for an increase of data quality of collections in SOCH, the aggregator for Swedish digital cultural heritage. Furthermore, she works on acquiring new data partners for SOCH and encourages the use of open licenses and high-quality data. One part of the campaign was her webinar series "Open GLAM now!" that supports institutions on their journey of opening up their data and collections."
---